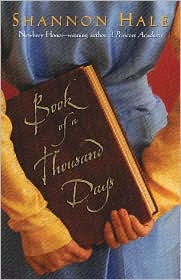 A favorite line from Book of A Thousand Days, by Shannon Hale:
"There's nothing more aggravating in the world than the midnight sniffling of the person you've decided to hate."
By the way, this book has a great story and protagonist, and was thoroughly enjoyable from Day 1 to Day (what was it?) 1106. I stayed up far too late watching a movie, and then foolishly picked up this book while getting into bed. I could not stop for about two hours, when my eyes finally fell shut. The next day I sat in my car with the keys in the ignition and read the rest.